Founded in 1954 by Clay Calender, Calender-Robinson is one of the oldest general insurance brokerages in San Francisco.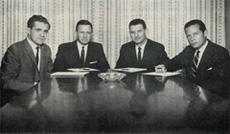 And because we've been building relationships for so long, we secure unbeatable rates from our vast selection of over 100 insurance companies. That means your options, as a client, are unmatched. This is the way our brokerage was founded, and the way we continue to conduct business – with our clients' needs and supreme satisfaction in mind.
We guarantee better service here than you'll find anywhere else. Then we prove it.
Contact us today and we'll show you how.
"The relationship between Rainbow Waterproofing & Restoration Co. and Calender-Robinson has been forged over the last 6 years. From the onset, we have received prompt accurate information that is critical to our day to day operations on over 350 projects per year. We feel that Calender-Robinson has maintained a high degree of professionalism and strived to obtain the best coverages and pricing in a very competitive market. Calender-Robinson is considered a valuable team member."
Dave Renfo
Owner